What's Possible in Housing? June 13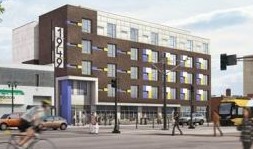 LWV Roseville Area is taking a housing field trip.  On Wednesday, June 13, 11:00 a.m., we will visit Prior Crossing, a 44-studio apartment facility on University Avenue for homeless youth.  Built by Beacon Interfaith Housing Collaborative and managed by CommonBond, it is one of many Beacon residences for homeless and low-income individuals and families throughout the area. We will tour the facility and participate in a presentation that explores all of the housing options Beacon provides including a future development for men re-entering the community after incarceration, a group that has a particularly difficult time finding homes.
If you would like to attend please send your contact information to Bonnie Koch, toouray@aol.com.  Specific information about the meeting and parking will be sent out just prior to the date.  Those who are interested may carpool from the Roseville Oval parking lot.  Interested Leaguers will have an opportunity to lunch together after the meeting.
Leagues' Housing Positions
The League of Women Voters at the national and state have long held housing positions as does CMAL (Council of Metropolitan Area Leagues).  National League has prioritized Fair Housing legislation going back to 1980.  To read specific advocacy, click on http://forum.lwv.org/member-resources/book/meeting-basic-human-needs.  Scroll down to Criteria for Housing Supply.
The State League position corresponds with LWVUS.  It can be found under Social Policy Issue Positions in their Program for Action 2017-2019, downloadable at https://www.lwvmn.org/sites/default/files/Program_for_Action_2017-2019.pdf.
Additionally, CMAL's Housing position supports: "The Metropolitan Council as the Housing and Redevelopment Authority acting as an administrative agency providing technical assistance to communities requesting service. "