How To Run A Successful Candidate Forum by Linda McLoon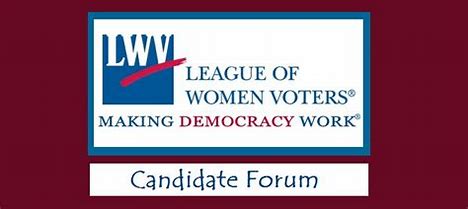 Both the motivation and goals for running a candidate forum is to provide the public a chance to hear candidates, face to face, answer questions about issues that are important to them. This requires several things to fall into place: the agreement by all or at least the majority of candidates to participate, a sufficient audience so that they can generate these questions, and a good moderator. There are a number of items on the "to-do" list to ensure that all three things occur.
The first item on the agenda is for the Voter Service Committee to determine which entities are holding elections. This means that they need to keep track of the Minnesota Senate and House races, local city council races including both mayoral and city council members, school board races, as well as others that might be important for the community – Ramsey County sheriff, Ramsey County commissioner, and even judgeships if they are contested. Once this has been determined, after the filing deadlines for each of these races, the candidates need to be identified and their contact information collected.
Next the Voter Service Committee needs to pick a day, time, and venue for the candidate forum. It is best held in a facility where the forum can easily be recorded. This includes venues such as city council chambers and school board meeting rooms. This makes it much easier to arrange for cable television recording of the forum. You also need to have sufficient seating, and generally these facilities have sufficient seating for the forums that we generally run. Relative to date, it is good to have all the candidate forums in October. This allows for them to be replayed on cable television at least once prior to the election. The exact date really depends on having sufficient members of the Voter Service Committee to be there to run the forum itself.
The other critical piece for an effective candidate forum is securing a moderator. An experienced moderator is key to a good candidate forum. The moderator cannot live in the senate or house district, city, precinct, or school district for the particular candidate forum in question. The moderator ultimately chooses the questions, and will rephrase them so that a Yes or a No is an insufficient answer. The moderator ensures that the candidates follow forum rules, e.g. no personal attacks, and sets the pace and tone of the forum. A good moderator also comes prepared with "office specific" questions in case insufficient questions are written by the live audience. In addition, a good moderator makes sure that the questions asked allows the voter to differentiate the candidates from one another, so that they can make an informed decision about how to vote. Most moderators bring their own script to the event, but it is good to ask in advance if the person needs one. It is also wise to give the moderator the candidate names and the offices they are seeking.
The next stop after venue, date, and time is to invite the candidates. In general, mailing a letter invitation to each candidate is best, including a sheet of forum rules as well as a response form with an addressed stamped envelope to make it easier for them to respond. Certainly email can be used instead. It is often necessary to do follow up phone calls to ensure that you have heard from all the candidates. Current League of Women Voters' policy is that you can now hold a candidate forum with those candidates who want to participate without concern if there is 100% participation. This issue had been a problem for a number of years, as one recalcitrant candidate could prevent open dialogue about issues for that particular race. Thus it is important that you let the candidates know what the rules will be. Once the logistics havebeen decided, the Voter Service Committee has the responsibility for spreading the word: getting out press releases, getting flyers up in libraries and other venues that allow them, informing the local league of the times and dates as well as the state League of Women Voters. You cannot advertise the event too much. It is very disconcerting to the candidates when there is a small audience. It is also good to remember that in contested elections, the Voter Service Committee needs to be prepared to look for a bigger venue if a larger crowd than usual is expected.
Once the candidates have agreed to participate, the final responsibility is the candidate forum itself. A check list is a good thing to prepare. You need volunteers to staff the forum: a moderator, two individuals to hand out index cards and pencils and collect questions, at least one person to sort questions and get them to the moderator, and you need a person who will time the responses. The timer will need a stopwatch or some other way to watch the time, and a card that says – 30 seconds- and a card that says –STOP. For most venues you need the candidate names on a heavy paper that can stand in front of each person, index cards, pencils, and any literature of the League of Women Voters. For the candidates, it is nice to provide water, pencils, and small pads of paper. Our local league has nice signage saying the League of Women Voters, which we put in strategic locations. It is worth the investment, as it gives a more professional look to the candidate forum.
The candidate forum is a critical event for many voters. With careful planning, the forum should run smoothly. More than ever, the public needs to have information about what candidates really think, how they will vote for specific issues that matter to the community, and how they will interact and respond to their constituents. These candidate forums do a tremendous public service for our communities and, we hope, make a substantive difference in the voting decisions community members ultimately make on Election Day.