Brews & Book Reviews - July 21, 2021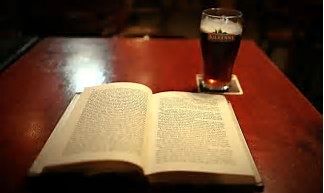 It's turning into a tradition! The 5th annual LWV of Roseville Area Brews and Book Reviews event is scheduled for Wednesday, July 21, beginning at 6:30 p.m. While we went virtual last year and had to raid our  respective coolers for a brew, this year we have reserved a room for the event at High Pines Brewing Company (https://www.highpinesbrewing.com), located at 2704 Snelling Ave. North in Roseville (the former Joe's Crab Shack location).  Craft beers and non-alcoholic drinks from the brewery and a variety of food items from Tipsy Steer (https://tipsysteer.com/roseville/) are available for purchase.
For those of you not familiar with this event, you and guests are invited to bring a book, or two, or a podcast suggestion to informally share in small groups. Physically bringing a book is not required! Come with just the title and author. A list of the books and podcasts discussed will be included in a future e-Blast and Voter. In the past, some participants have come to make personal reading lists for summer reading. New this year, there will be a special drawing for participants: a $50 gift card for High Pines Brewing/Tipsy Steer! So, invite a friend, relative, or neighbor who might be interested in League and come on over.
We understand and respect that all may not feel comfortable gathering in person, particularly indoors. We appreciate that all attending will be fully vaccinated.