Unit Meeting April 18 & 19 - Affordable Housing Study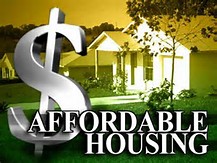 LWV Roseville Area will release its study of affordable housing and its availability in Falcon Heights, Lauderdale, Little Canada, Maplewood and Roseville at the April 18 meeting. The League has a long history of advocating for equal opportunity and economic justice for all, including affordable housing.   The League committee that has been studying this issue for the past year will present their findings and recommendations.
The meeting will be at 6:30 p.m. at the Autumn Grove Roseville Park building, 1365 Lydia Ave. W. The event is free and open to the public. There will also be a recorded viewing of the program at 9:30 a.m. at the Lutheran Church of the Resurrection, 3115 Victoria St. N., Roseville.
You can view a copy of the Affordable Housing study at Local Study - Affordable Housing.
To read the interviews that informed the study, select from the list below: